I'm so happy a lot of you loved the idea of the follow back! So exited.
I'm going to have a very busy day checking out all the wonderful blogs!
Meanwhile, I have the great news that I have FOUR more awards! You are so spoiling me! Lol! The first one comes from Free2bMommy and it's called "A Blog with Substance". Thank you! The rule for accepting is to write your blog philosophy. Well my inspiration for this blog came from a simple quote: "Everyday is a journey and the journey itself is home". These are my memoirs of the journey towards becoming a New Yorker but no matter what happens I always carry my island heart with me for my home it's within.
I'm passing this award to:
I receive two of this next award! One from Kanwalful and another one from Holley! I love Kanwalful blog because it's she has such different lifestyle and always surprises me with her posts! Holley's blog is so honest and I always have fun reading it! Thank you to both! The award is called "You're Going Places" (i took the liberty on making it a bit prettier lol). I want to enjoy everything the blogging experience has to offer and share it. The rule for this one is to write down where you see yourself being in ten years. I see myself living in the city in a beautiful apartment with my own walking closet and a lovely beach house at my island for vacations. Married, without kids yet but planning for them and still madly in love with my bf. I see myself working for a TV network (even though I studied accounting so I don't know how that will work out) and promoting my published book. Big dream much? Oh yes!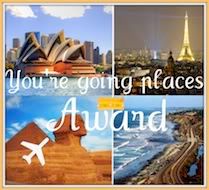 Now I will pass this award to:
I also received the "Versatile Blogger Award" from Bonnie! Thank you so much! I always try different things to keep my blog alive and keep my readers entertained! For this award you need to write seven simple things about you. Let me see... I love to read, I have a beautiful cat named Obbie, I love pumps more than any other type of shoes, I can't life without jeans, I can make delicious desserts but I suck at any other cooking, my little sister is my favorite person in the whole world and my favorite flowers are ponies and lilies. There, some of the top of my mind simple facts about me.
I will pass this award to:
{You can find all my awards on the sidebar menu and don't forget to enter the Mosaic Photo Frame giveaway!}

Share