For this Friday I'm going to try something different and since all of you my beloved readers have been so kind to follow me, I'm following you back too! As soon as I see a comment I always try to head over to the blog, follow each one of you and leave a lovely comment. So I'm making a blog hop just to get to know my readers blogs and you will get to meet other bloggers as well. Not a weekly thing but I think this time it's going to be fun!
I consider myself a very good follower. I try to read and comment on the blogs I'm following every now and then and enter to all giveaways I see! ;) I usually click almost all the tittles that appear on my blogger dashboard and have fun reading. I get a lot of ideas and inspiration from reading others blogs too. I while back I saw a post on "Commandments of Comments". It's like a guide to being a good follower. They have many that I don't agree on like not leaving your URL as a signature but I don't really mind the URLs. In fact it makes it easier to go and visit other blogs. ;) But here are some good ones:
Thou shall not call names. If you disagree with the author's opinion, state why. Provide sources or examples of your experiences. Don't just say "You're dumb." Maybe the author IS dumb- but don't just say so, prove it!
Thou shall not use comments to whore thyself out. My blog is my home. Please do not come into my home, tell me you like my couch, but that you have a cooler one over at your home, which you can find "here". If you want my readers to check out your blog, leave a comment that shows them what they'll find at your blog in the form of your personality.
Thou shall not encourage trolls to dwell. If you don't know what a troll is, I envy you. When you encounter a troll, do not add fuel to the fire. Do not even acknowledge their existence. Trolls are like the bullies in grade school- if you let them know they bother you, they'll never leave you alone; but if you ignore them, they'll go give someone else a wedgie.
Ok so now the blog hop links! Grab the code and do a post to let everyone know about it so they can find other cool bloggers too!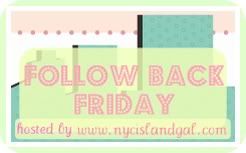 Also you can let your followers know some random details about you so they can have a better picture of you! Here are some of mine:
I went to a catholic private school and I'm not catholic (yes, wore an uniform every day up to 12th grade).
I've had already work at 10 different places/jobs (Edy's ice cream shop, Gelatos ice cream shop, local baby clothes store, local shakes shop, Banana Republic stores, Insurance company, Hugo Boss stores, accounting firm, assistant of a college professor, non-profit accounting services company) and I'm only 22.
My dream job is to write for a living or host a TV Show on Bravo.
I obsessed with coconut (the fruit, the smell, everything) and like asparagus.
From any place in my island you can get to a beach in less than 40 minutes and for some reason I don't like getting in the water, though I love the view (I think I have never said this out loud, people here take it personally if you don't like the beach).
I can recite almost all the dialogue (and songs) of the movie Moulin Rouge.
I watch a lot of TV Shows (Leverage, House, Dexter, Lost, Lie to Me, Entourage, Heroes, Weeds, The Good Wife, Desperate Housewives, How I Met Your Mother, Will & Grace, Gossip Girl, True Blood, Modern Family, Desperate Housewives of NYC, The Bachelor, The Bacherlorette, Project Runway, Glee, Vampire Diaries, United States of Tara and my newest addition Pretty Little Liars. Not to mention the wedding ones!). Yep, I have a lot of free time on my hands!
{Don't forget to enter the Mosaic Photo Frame Giveaway!}

Share