Art is my favorite way to spend my money (well, besides shoes)! To me art is timeless and can make a room feel and look completely different. So this next giveaway is a very special piece of art by Jessica Durrant. She is a freelance artist and Art teacher in the Philadelphia area. Durrant studied Illustration at Southern Utah University where she received her Bachelor's. She recently finished illustrating a children's book with some friends and they now are on the hunt for a publisher. She also designs e-invites for NYC based pingg.com. Durrant's art is inspired by her passion for traveling, fashion design, art deco, graphic arts, Japanese Illustration, vintage fashion magazines, and fellow artisans. "If I can create an image that makes the viewer, feel as happy as I did when I created it-than my job is done", gracefully says Durrant. Her passion and talent makes these panting unique and tasteful! I'm so happy to present this giveaway of her beautiful and inspiring art.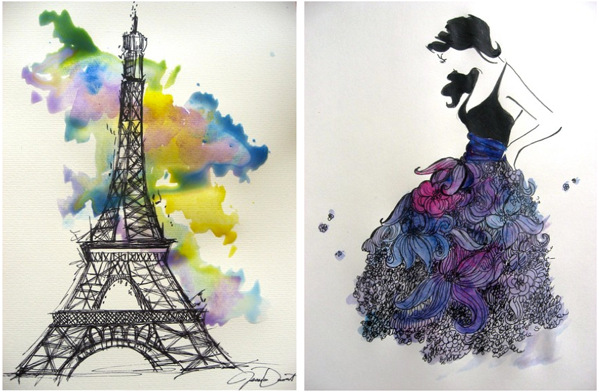 Her Etsy shop, Jessica Little Shop of Paintings, is filled with outstanding watercolors original arts and the artist has been kind enough to let the winner choose their watercolor original art from these four options. You can click on each painting to see the actual size and retail value.
To win (must be a follower):
Mandatory entry – Visit Jessica's Little Shop of Paintings and comment below telling which piece you like the most.
Additional (optional) Entries:
Vote for me on the 2010 BlogLuxe Award under "Best Eye Candy" and comment below with the link of the "thank you for voting" page. {4 entries}
Write a blog post about this giveaway and comment below with the link. {4 entries}
"Like" me on facebook and comment below telling me so. Already "liked" counts! {2 entries}
Follow me on twitter and comment below telling your username. Already following counts! {1 entry}
Retweet this giveaway post and comment below with the link. {1 entry}
Good Luck! Giveaway ends on 6/07 at 11:59pm
*******************
The winner is (selected by random.org):

Share